We are an active club with members who enjoy working with their Dobermans in conformation, agility, rally, obedience, search and rescue, tracking, nosework, dock diving, police and military service, Schutzhund, coursing, barn hunt and therapy support. Scroll down to see some of our dogs having fun doing what Dobermans do best — working and playing with their human partners!
Want to join us? Come to any of our events, we'd love to see you. Better yet, join a class to learn to have fun with a well-trained canine partner.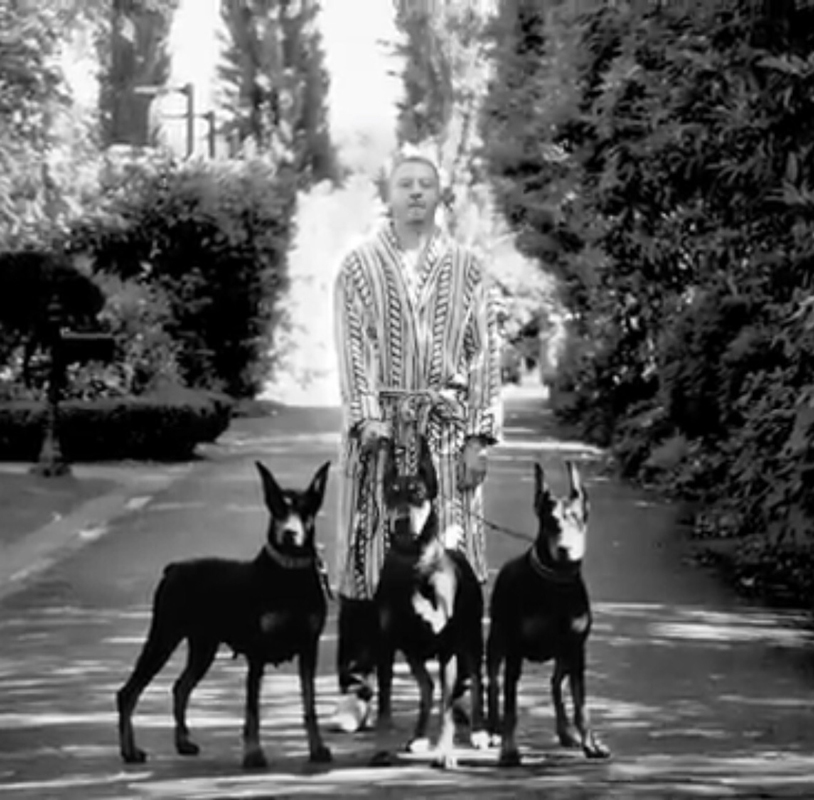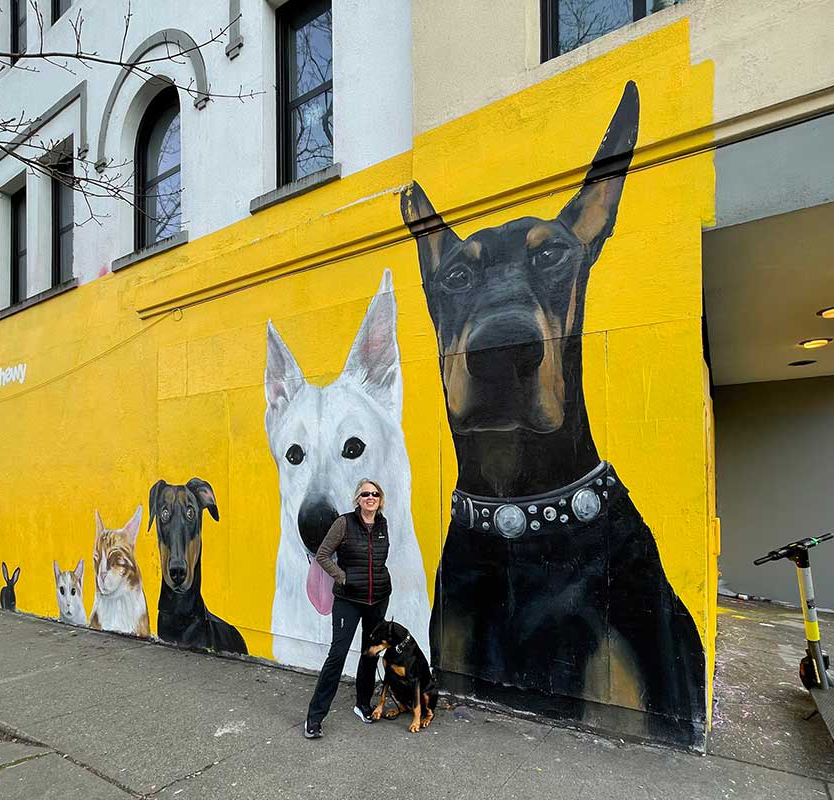 Seamus (a Ravensown KO dog) was featured bigger than life in a Chewys mural, painted on the corner of Broadway and Pike in downtown Seattle during the spring of 2022.
Barn hunt
Barn Hunt is a competition involving dogs using their nose to seek around a barn or barn-like course for vermin. The vermin, typically trained rats, are in protective and breathable tubes. There are many different titles that a dog can receive based on their proficiency in the job performed.
Pictured here is Ch RATCHX15 Foxhall's Piper Heidsieck, ROM CD RE OA AXJ CZ8G. Piper was the top ranked RATCH Doberman Pinscher in North America for several years and competed until she was nearly 12 years old. Piper is a wonderful example of how this fun sport is something all dogs can do at any age.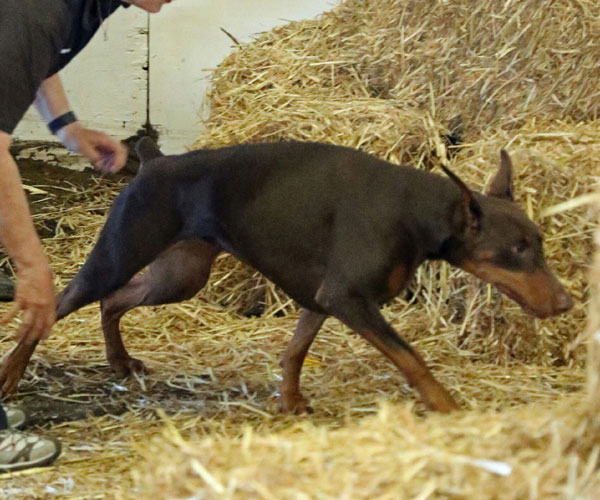 Conformation
The official term for dog shows is "conformation" — as in, the act of conforming or producing conformity. One of the most popular AKC events, conformation events range from large all-breed shows, with over 3,000 dogs entered, to local specialty club shows such as the Specialty shows PSDPC offers each August, featuring only Dobermans.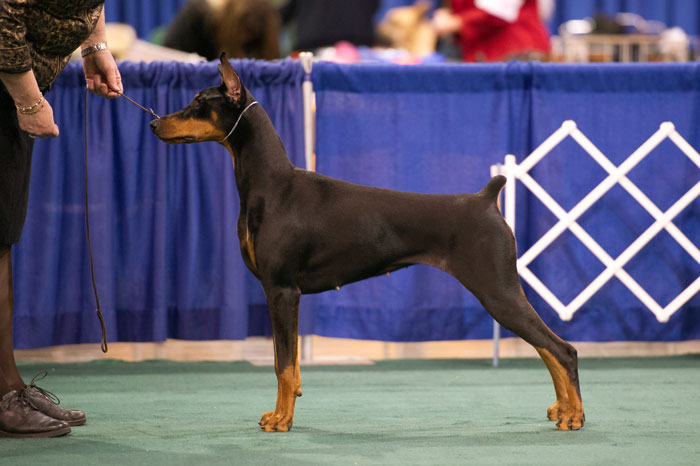 Dock Diving
Diving Dogs is a fun, exciting but easy to do sport with simple rules: You throw your dog's favorite toy into a pool while he waits on a dock about 40 feet long. On your command, he runs along the dock, flings himself off the end of it, lands in the water and grabs his toy. The AKC began recognizing titles of the North America Diving Dogs (NADD) organization in June 2014.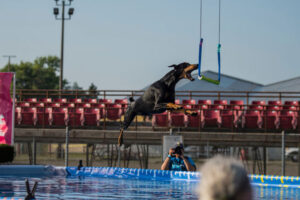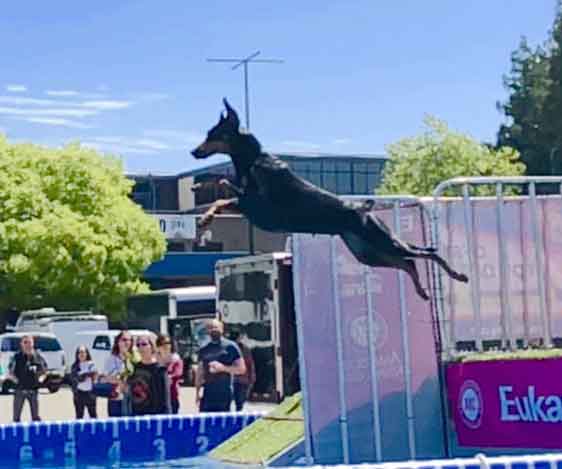 Agility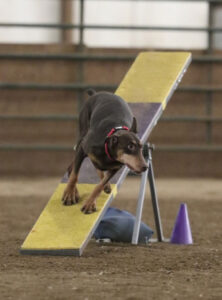 Agility is a fast growing dog sport in the United States, with over 1 million entries to the AKC's Agility Program each year. Dogs and their handlers race against a clock as they accurately navigate an obstacle course with strong concentration and speed. The PSDPC holds two agility trials each year.
Pictured here weaving is Max, Ch Tijac Elite Model RA MXB MX  MXJ MJS NF ROM. Jumping over the double is Mira, Ch Stardust Xmen's Mirage RN AX AXJ NF CAA ROM.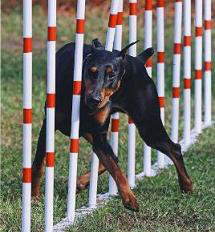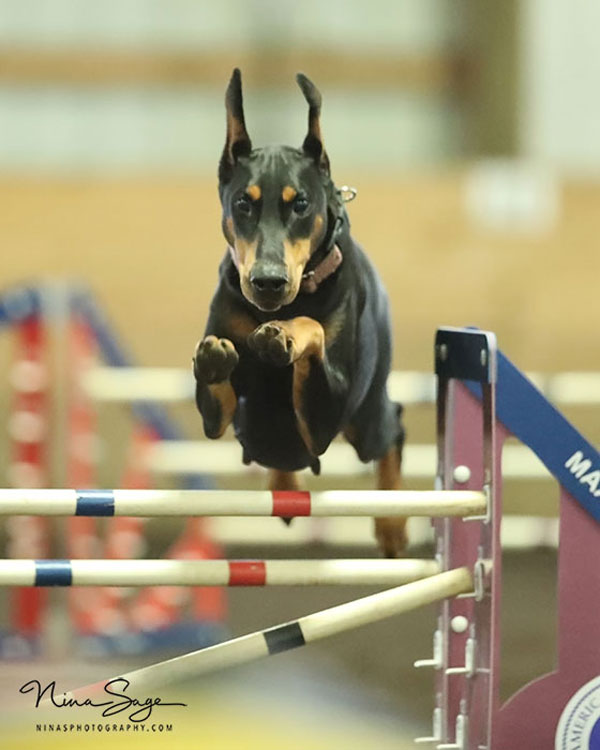 Herding
Herding dogs must demonstrate the ability to move and control livestock by fetching or driving and be sufficiently trained to work at the proper balance point to move the stock forward on the course. Herding Trials are competitive and dogs are scored on their herding abilities according to test level, course type and livestock type. Throughout all field trials the teamwork between handler/shepherd and dog is essential.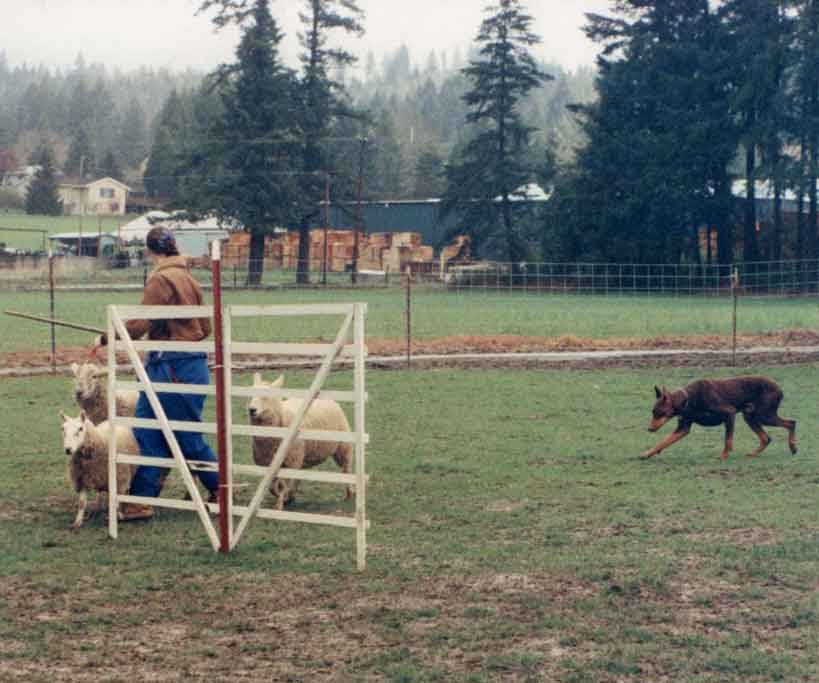 Search and Rescue
Search and rescue dogs are working dogs that are used in the field to track and find people in extreme circumstances. They work as a team, alongside their K-9 handler. These dogs are highly skilled in a specific set of disciplines to help in their mission.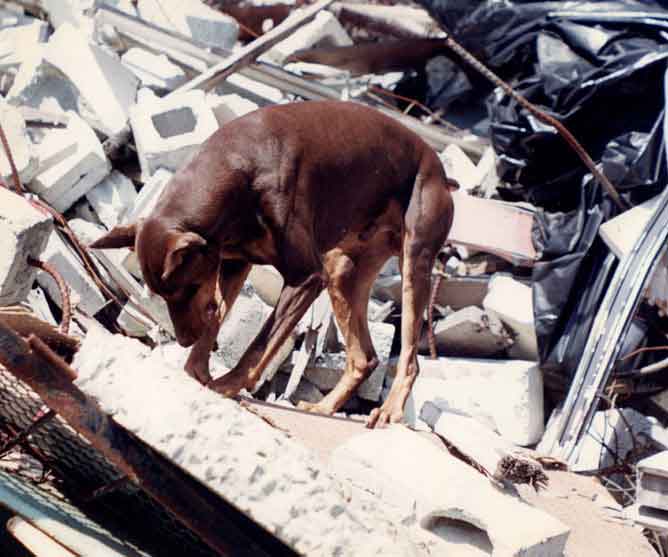 Obedience
All dogs deserve a good education! Obedience is one of the AKC's oldest sporting events. From walking on- and off-leash to retrieving and jumping, or demonstrating your dog's ability to stay, Obedience trials feature dogs that are well-behaved at home, in public places, and in the presence of other dogs. It is essential that the obedience dog demonstrates willingness and enjoyment while it is working with the handler. 
PSDPC holds Obedience trials for Dobermans at their Specialty shows each year. Pictured here is Ruby, CH Dragonheart 'N Starlaine Forever Autumn RATS CDX AX MXJ MXF CGC TKA, showing off an attentive sit-stay after being awarded her Open (CDX) title. Harry James, Montwood Arista Sugar Daddy CDX GN RE OA AXJ, competing in Utility in the Directed Jumping exercise and Seamus, GrCh Ravensown Who's Got the Luck O' the Irish @ Foxfire CD ROM NAP NJP NFP RA RAT-O CGC TDI TKN, returning with the dumbbell during the Open competition Retrieve Over High Jump.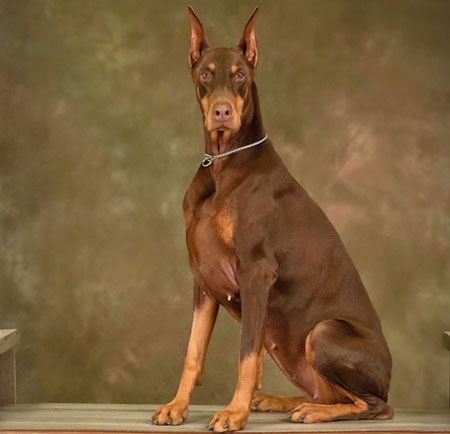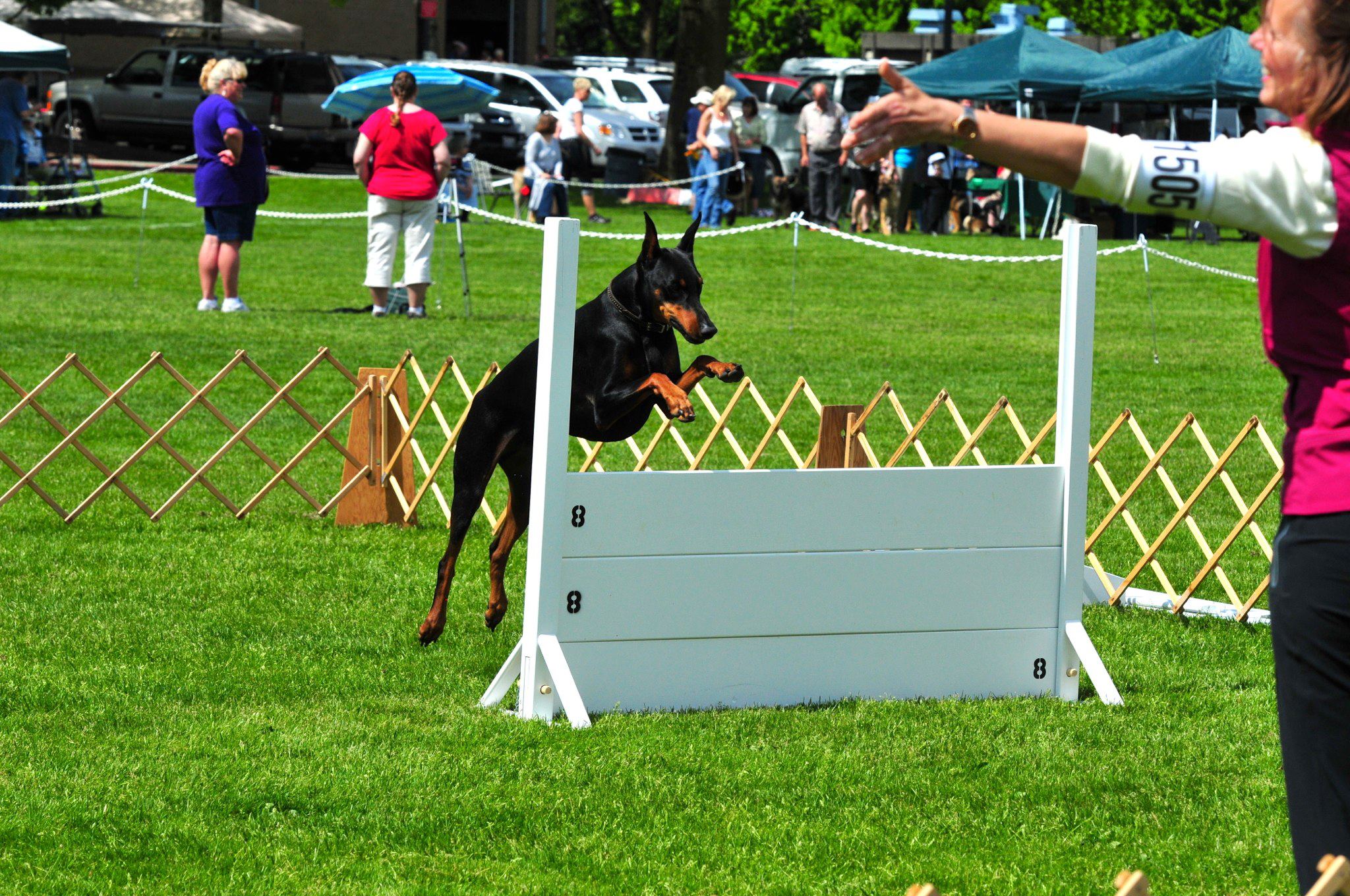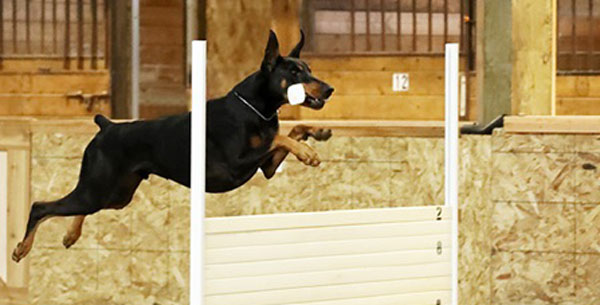 Scent Work
AKC Scent Work is a sport that mimics the task of working detection dogs to locate a scent and communicate to the handler that the scent has been found. AKC Scent Work takes this amazing working relationship and turns it into a fun game that any dog can play.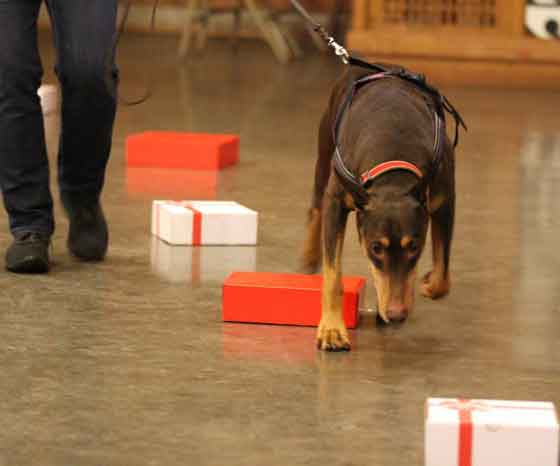 Therapy dogs
Therapy dogs are dogs who go with their owners to volunteer in settings such as schools, hospitals, and nursing homes.
From working with a child who is learning to read to visiting a senior in assisted living, therapy dogs and their owners work together as a team to improve the lives of other people.
Therapy dogs are not service dogs. Service dogs are dogs who are specially trained to perform specific tasks to help a person who has a disability. An example of a service dog is a dog who guides an owner who is blind, or a dog who assists someone who has a physical disability. Service dogs stay with their person and have special access privileges in public places such as on planes, restaurants, etc. Therapy dogs, the dogs who will be earning the AKC Therapy Dog™ title, do not have the same special access as service dogs.
Pictured at right is Leonidas, GCH/INT CH DeeRun's Leonidas, CGC CGCA CGCU TKN BN RA THDN ORT1 TT ROM, attentively listening to a story being read aloud to him.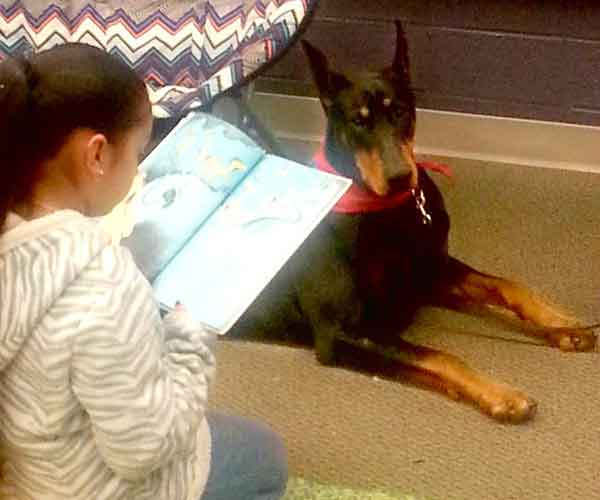 Flyball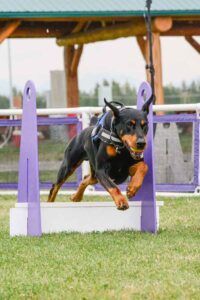 Flyball is a dog sport in which teams of dogs race against each other from a start/finish line, over a line of hurdles, to a box that releases a tennis ball to be caught when the dog presses the spring-loaded pad, then back to their handlers while carrying the ball. Flyball is run in teams of four dogs, as a relay.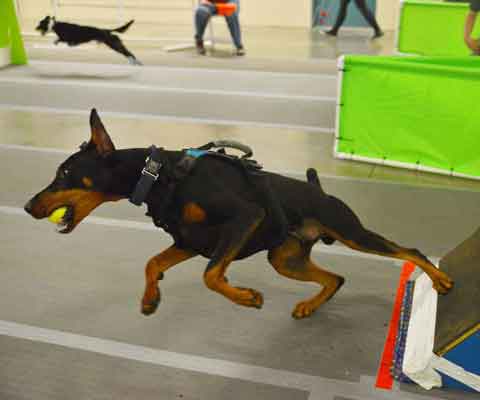 Have questions? Want to learn more? Ask our Information Officer through the form below or follow us on Facebook.
Please note: We can not provide advice on any medical conditions (including cropping), training, behavior issues or nutrition. Contact your veterinarian directly. In addition, PSDPC does not recommend, guarantee, endorse, nor rate any breeders, their kennels, or dogs.