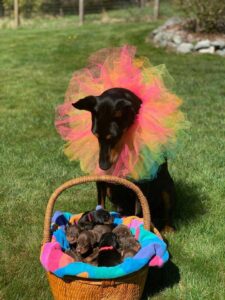 Welcoming a Doberman
If you are looking for your first Doberman puppy, be sure to learn more about the breed and what it is like to live with a Doberman.
Good breeders don't advertise in Craigslist, the newspaper classifieds or on bulletin boards — and they are very choosy about what homes their puppies go to. Good breeders care about their puppies for a lifetime. If you are looking, here are some things to consider:
Health testing. A reputable breeder will be able to show you the parent's health test such as OFA or PennHIP (hip), CERF (eye) and DNA tests for vWD and other disorders common to Dobermans. Also, ask what those dogs' grandsires and granddams died of, and how old they were. Find out if there is a family history of any health problems such as DCM (cardiomyopathy). While there are no guarantees when it comes to genetics, a reputable breeder can tell you everything they know about the health of their dogs. PSDPC holds a Health Day each year for its members, generally in December. Click here to learn more.
Titles. Look for letters before and after the dogs' registered names! It's not enough for a dog to be of "champion bloodlines" (which means only that somewhere in its genealogy, there was one dog who earned a championship). If your puppy's sire and dam do not have a few conformation or performance titles, there has been no independent evaluation of the dogs' physical structure and temperament. In other words, you have only the breeder's word that the puppies will turn out healthy and sound.
Contracts. A good breeder will offer you a purchase contract with a health guarantee and a return-to-breeder clause that stipulates they can take the dog back if you don't keep it for any reason. Good breeders care about the dogs they produce, and they don't want their puppies to go to shelters!
Referrals. Talk to local rescue groups, breed clubs and veterinarians and ask their opinion of that breeder's dogs. Attend dog shows or trials and watch that breeder's dogs in action.
If you don't find the right dog or breeder right away, don't give up. It may take quite a bit of research to find the perfect pet for your family. Take your time choosing, and enjoy the years with your perfect Doberman!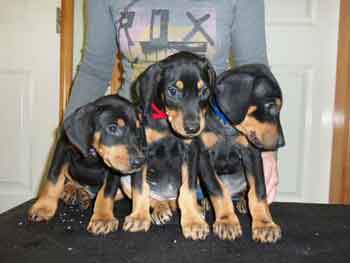 If you have your heart set on bringing home a new puppy, be sure you have researched the breed and what it is like to live with a Doberman. Come to some of our events and meet our dogs at work and play. Then talk with a reputable breeder. They care about their pups and want to help you give your dog a happy lifetime home.
Looking for a referral to a reputable breeder?
Many of our members are responsible breeders. You can find details and more information on the Doberman Pinscher Club of America Breeder Referral page at dpca.org
Looking for an older dog?
We are represented by the Seattle Purebred Dog Rescue to find loving, permanent homes for dogs who need a new home.
Note: We do not condone or support the breeding of the "white"/albino Doberman as it is a genetic mutation. Learn more about the DPCA policy on albinism.
Showing and Training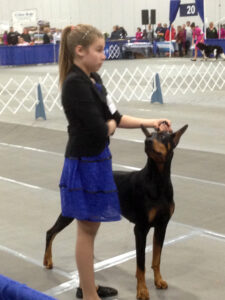 Dobermans are busy dogs. They love to work and they NEED a job to do — if you don't provide them with one, they will find something to do on their own (and you might not like the results!) Whether you're wanting to compete in dog shows, learn agility, get Obedience titles or just want to have a well-behaved companion around the house and go on walks with you, training your Doberman is the first thing you must do! 
In the Seattle metropolitan area:
Gold Star Dog Training offers training in Auburn (King County), ranging from competition obedience to family dog basics, conformation and puppy foundation classes.
Heather O'Neill offers agility coaching and classes in Auburn and Sumner, from puppy foundation to world-team-level competition skills.
In Arlington (Snohomish County), Kristi Crabtree offers motivational dog training.
Online resources:
Have questions? Want to learn more? Ask our Information Officer through the form below or follow us on Facebook.
Please note: We can not provide advice on any medical conditions (including cropping), training, behavior issues or nutrition. Contact your veterinarian directly. In addition, PSDPC does not recommend, guarantee, endorse, nor rate any breeders, their kennels, or dogs.