PSDPC wants you to be successful welcoming a Doberman into your family and to have a lifetime of fun and love as you provide a forever home.
Some of this information is excerpted from The Doberman Pinscher Club of America. Click the DPCA booklet button at left to get more information about the history of the breed, learn what to expect in behavior, growth and development, about the albino Doberman and "Warlock giants", and many more frequently asked questions about our breed.
Consider attending our events to see Dobermans in action — we love to talk about our dogs!  
Discover even more about the Doberman Pinscher breed by visiting their website at dpca.org.
Be aware that the Doberman pinscher is not for every person or every family. This is simply the reality of the breed. It is a demanding breed and re­quires constant attention and guidance from the entire family working together as one. Without careful research and study of Doberman characteristics and temperament, problems with behavior can occur.
Living with a Doberman is a challenge that comes on a daily basis. They are very busy dogs but are loyal, discerning and have a tremendous sense of humor.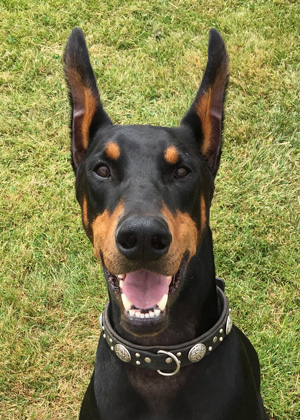 Dobermans have very steady temperaments, but they do need to be shown or told what you expect of them. If you aren't consistent and clear, you will confuse them.
A Doberman knows when to protect, when to growl, when to smile and when you're in need.
A Doberman is a working dog, he is ever alert and ready at all times to take care of his family and home with tremendous adaptability to what is necessary in almost all situations.
The Doberman is highly intelligent. He is, by virtue of his physical prowess and mental excellence, one of the most formidable of all the working guard breeds. He is a finely-tuned protector, capable of doing considerable harm and damage to his foes. Because of his temperament and physical superiority, the Doberman must be managed properly from puppyhood. This means kindly and patiently and respectfully nurtured and educated—issuing appropriate discipline when necessary to make the point or correct undesirable behavior.
If started from the moment your Doberman enters the home, training can and should be rewarding. Of course, as with most dogs, there will be times that you, as a handler/owner, will feel frustration, but the secret to training a Doberman is to keep it fun, always be fair with corrections and be consistent. These are not dogs that can be 'brow beaten' to learn something and need time and patience to let the learning take place.
Things to consider before a Doberman joins your family …
Do you live in town or the country? What is your lifestyle, and how will a large, energetic dog fit into that?
Dobermans are not known for tolerating temperature extremes. They need to be indoor pets. It can also be a good idea to speak with your neighbors before you acquire your new dog. There are many misconceptions and myths about the breed in the general public.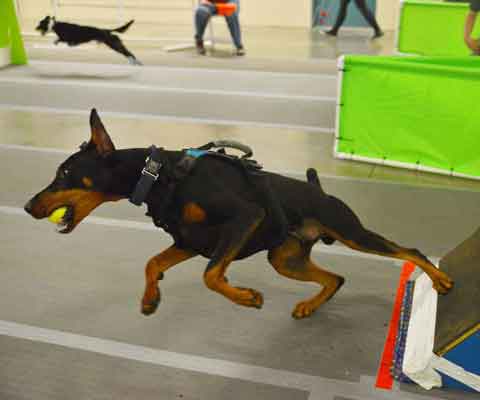 Dobermans need to be a part of the family, and don't like to be left behind, so consider just how on the go you are? Could you take the dog with you on errands? On vacations? Do you travel often for work?  
Daily consistency and routine is key to good behavior. Will you be able to handle a dog with this much high energy?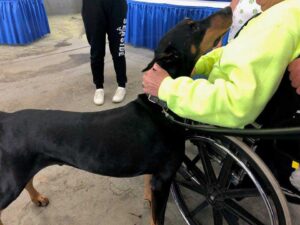 Do you have a fenced yard, or an enclosure? Who will take care of the dog's needs? Will you be working outside of your home? And if so – what will you do with a large dog while you are at work?
Many breeders are reluctant to sell or place a Doberman into a home with no fenced yard. If you are a working parent, who will take care of the Doberman, give her exercise, and take her out to potty during the day? Who will be in charge of walking her in the A.M. rush? Late at night before bed? Who will give her that much needed daily exercise?
Ready for a Doberman?
If you have your heart set on bringing home a new puppy, be sure you have researched the breed and what it's like to live with this busy, powerful breed. Come to some of our events and meet some of our dogs at work and play. Then talk with a reputable breeder. They care about their pups and want to help you give your dog a happy lifetime home.
Looking for a referral to a reputable breeder?
Many of our members are responsible breeders. You can find details and more information on the Doberman Pinscher Club of America Breeder Referral page at dpca.org
Looking for an older dog?
We are represented by the Seattle Purebred Dog Rescue to find loving, permanent homes for dogs who need a new home.
Note: We do not condone or support the breeding of the "white"/albino Doberman as it is a genetic mutation. Learn more about the DPCA policy on albinism.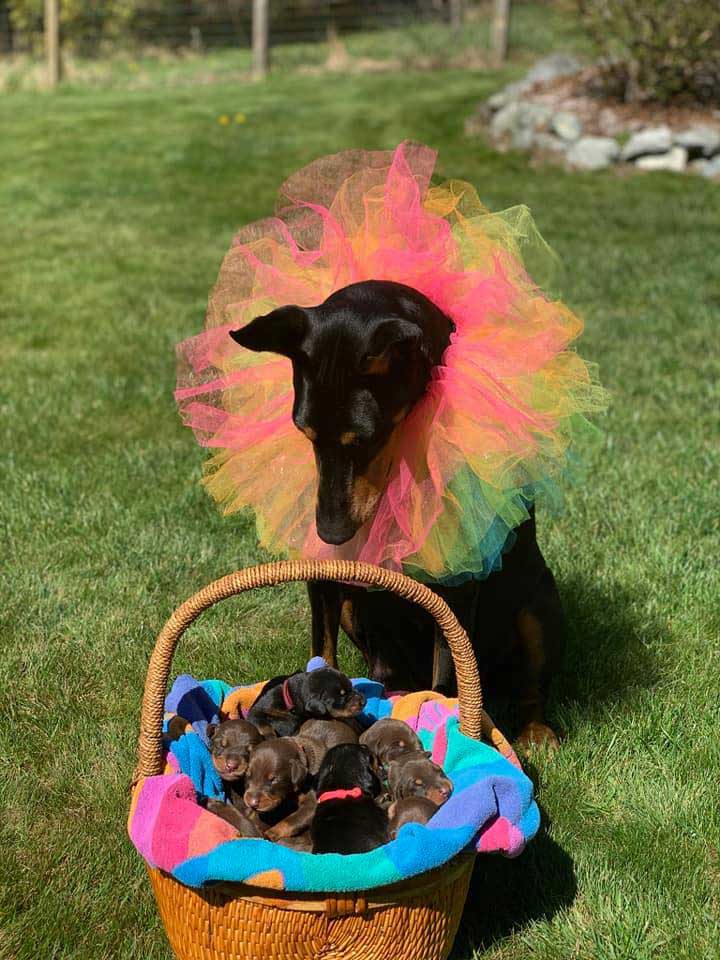 Have questions? Want to learn more? Ask our Information Officer through the form below or follow us on Facebook.
Please note: We can not provide advice on any medical conditions (including cropping), training, behavior issues or nutrition. Contact your veterinarian directly. In addition, PSDPC does not recommend, guarantee, endorse, nor rate any breeders, their kennels, or dogs.